MY PROFESSIONAL CAREER
Education
I was educated at St. Paul's Girls' School, London, and St. Hugh's College, Oxford University (1968-72), where I had an Open Scholarship to read Modern Languages (Italian and French). In my third year I studied in Aix-en-Provence, Paris, Florence and Venice, on a scholarship awarded by the Cutlers' Company in London. After graduating, I took up physiotherapy training, and qualified as a Chartered physiotherapist in 1976. I have worked ever since in the field of physical rehabilitation.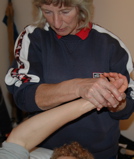 Sports injuries
I specialized at first in sports injuries, and worked in my private practice in west London from 1978 until I left the UK, working part-time or full-time according to my other commitments. I worked with top-class sports competitors as well as patients who played sport for health and fun. I attended the 1977 World Student Games, 1978 Commonwealth Games and 1980 Summer and Winter Olympics as a headquarters physiotherapist for the British and English teams. I set up the UK's first full-time sports clinic within the National Sports Centre at Crystal Palace (1978-82). For several years I was also physiotherapist to the Squash Rackets Association's junior boys' squads, honorary physiotherapist to the Amateur Rowing Association and the Women's Squash Rackets Association, and I also did occasional work for the British Amateur Gymnastics Association. In 1981 I organized physiotherapy cover for the first London Marathon, and in 1984 I worked as physiotherapy consultant for Portsmouth Football Club, not only treating the players, but helping the Club to select a permanent Chartered physiotherapist.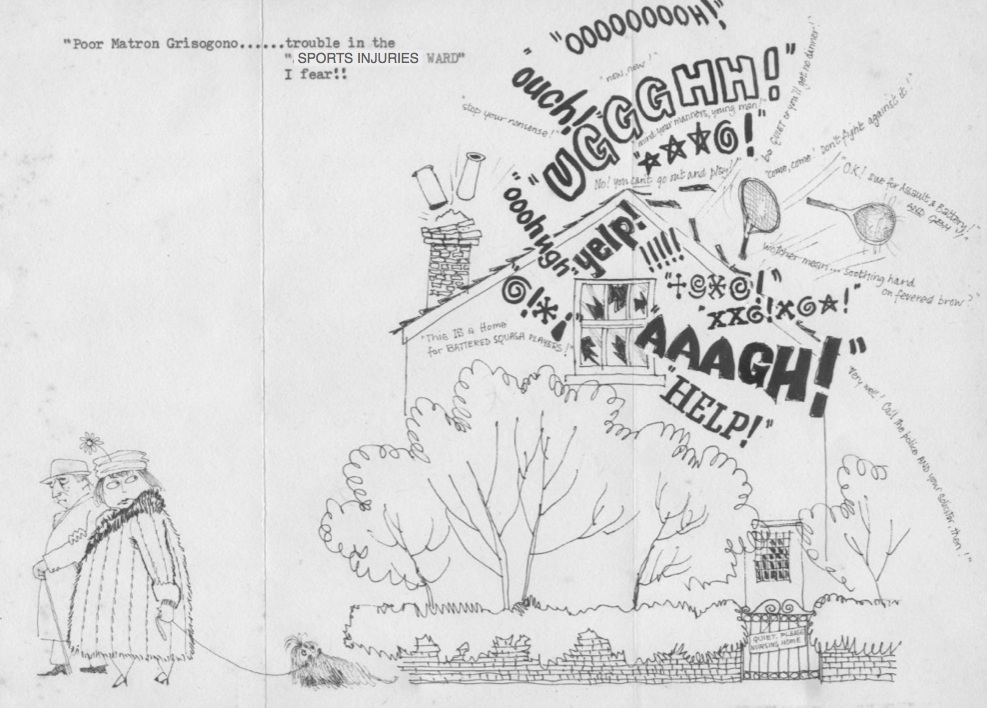 A sports physio's life is not always easy, but it's always interesting! Cartoon by Michael Bartlett
General practice
I was always interested in health problems apart from those related to sport. Rehabilitation techniques can be applied to a great number of challenging problems, including rheumatic conditions, neurological problems, reflex sympathetic dystrophy, glandular fever, and chronic fatigue syndrome, to name a few. Within the team framework, I have treated patients with cancers and eating disorders, helping alleviate the physical effects of their illnesses. Accidents can happen to anyone, and I treat my share of whiplash injuries and back problems caused by accidents or poor posture.
When the war of aggression was unleashed on my native Croatia (1991-95), I became involved in helping patients with war-related injuries and wounds. In 1992 I was sent on a mission by the UNDP (United Nations Development Programme) and UNHCR (United Nations High Commission for Refugees) to assess the needs of war victims in Slovenia and Croatia. Working with the registered charity 'Franka's Fund for Croatia', I organized a variety of projects for the war victims, including the following: amputees and others were brought to the UK for treatment; training courses in the specialized Bobath Method and other types of modern neurological treatments were organized for Croatian physiotherapists, in Zagreb and Krapinske Toplice Rehabilitation Hospital; volunteer practitioners were sent from the UK to work alongside their Croatian counterparts; training in orthopaedic rehabilitation was carried out; specialist rehabilitation equipment was supplied to Croatian institutions, including modern electric therapy couches; international journals and books were donated to Croatian hospitals; lifesaving medicines were also donated.
Charity work in peacetime Croatia
After moving to my Dalmatian homeland in 2004, I set up a registered charity, Eco Hvar, with a view to improving human health, the environment, and animal care. The charity is based on Hvar Island, but operates in a wider context, not only in Croatia, but also internationally. You can read about our work on the Eco Hvar website and our Facebook page.
Teaching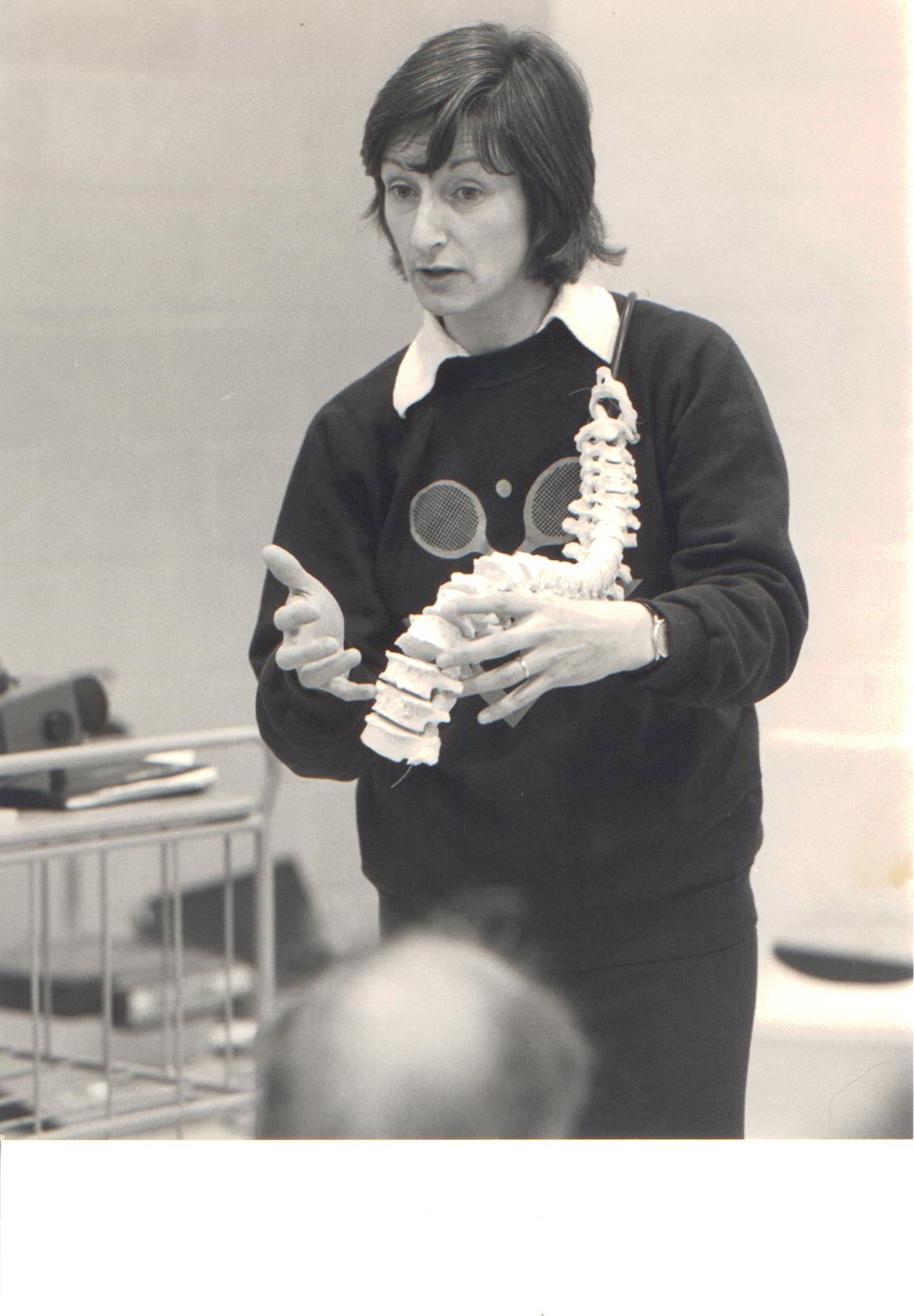 My clinical experiences led into teaching, and in 1986 I was awarded an honorary lectureship to the London Hospital Medical College for the Sports Medicine Diploma Course for Doctors, for which I had lectured since its beginnings in 1981. I was also a member of the committee which set up the post-registration certificate course in sports physiotherapy at Crewe and Alsager. Over many years I have lectured to doctors, physiotherapists and other practitioners, sports coaches, PE teachers, sports participants and patient groups. For instance, I lectured on the Lawn Tennis Association's training programmes for coaches, and gave short courses on massage and injury prevention for physical education students at Avery Hill and North London training colleges. I contributed practical sessions on fitness, injury prevention and relaxation for the Amateur Ballroom Dancing Association (BADA). My teaching work extended to television and radio, and I have done many feature programmes in the UK and abroad about sports injuries, as well as phone-ins offering advice to patients on UK radio stations.
Writings
Teaching led to writing, and I have published many articles for practitioners in professional journals, including "Physiotherapy Treatment for Achilles Tendon Injuries " 'Physiotherapy' 75 (10) 562-572 (1989) and "The Injuries Service at Crystal Palace " 'British Journal of Sports Medicine' 15 (1) 39-43 (1981). For many years I contributed regularly to sports magazines, including 'Sport and Leisure' (the magazine of the UK Sports Council), 'Running', 'Squash World', 'Squash Player International', 'Fitness', 'Performance Cyclist International'. I was also commissioned to write articles in national publications such as 'The Times', 'The Observer', 'Vogue', and 'Cosmopolitan'.
I have contributed to other people's books: 'The Sports Health Handbook ' by Norman Harris, John Lovesey and Chris Oram (World's Work Ltd, 1982); 'The Pineapple Dance Book ' by Debbie Moore (Michael Joseph 1983); 'International Running Guide 1984 ' edited by Cliff Temple (Tantivy Press 1984); 'Top Coach: Squash ' by John Taylor (Pelham Books 1985);'Sports Injuries and their Treatment ' edited by B Helal, J King and W Grange (Chapman and Hall 1986); 'How to shape up your man ' by Catherine & Neil Mackwood (Sphere Books 1986); 'The "Running" Guide to keeping fit ' by Sylvester Stein (Corgi 1986); 'The Manual of Weight-Training ' edited by George Kirkley & John Goodbody (Stanley Paul 1986 4th Edition); 'Improve Your Squash ' foreword by Ross Norman (Willow Books 1988); 'Skilegs' by Tessa Coker (Ski Club of Great Britain 1989); 'One on One. Your Personal Fitness Trainer ' by Dave Baptiste (Vermilion 1992); 'ABC of Sports Medicine ' edited by G McLatchie, M Harries, J King, C Williams (BMJ Publishing Group 1995).

And I have written my own books:
Sports Injuries, a Self-help Guide, published by John Murray, London (1984). (Also in Portuguese, French, German, Dutch and Spanish, and an American edition 1994)
Knee Health
published by John Murray, London (1988). (Also in Dutch and Spanish.)
Know the Game, Sports Injuries, published by A & C Black, London (1989).
International Perspectives in Physical Therapy, Sports Injuries, (editor) published by Churchill Livingstone, Edinburgh (1989).
Strokes and Head Injuries. A Guide for patients, families, friends and carers. Co-authored with Mary Lynch. Published by John Murray (1991).
Children and Sport. Fitness Injuries and Diet, Published by John Murray (1991).
Running. Fitness and Injuries. Published by John Murray (1994).
The Back - Problems and Prevention. Published by John Murray (1996).
The Knee - Problems and Prevention, Published by John Murray (1998).
Sports Injuries, A Self-Help Guide, 2nd edition (completely revised and re-written) Published by Lotus Publishing UK, 2012.
Sports Injuries, a Self-Help Guide, 3rd edition (revised in a new format) Published by Lotus Publishing UK, (30th January 2019).