Fishing
In Croatia both the fishing industry and recreational fishing are controlled as well as possible, to protect the breeding grounds and fisheries. Fishermen take exams and are issued with permits.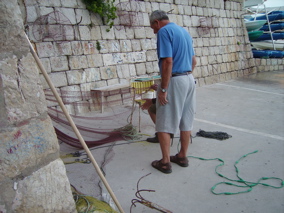 There are seasons for catching different types of fish, using weapons, pots and the various nets, including drift nets, trawl nets, gill nets and the more modern purse seine nets. In August 2010 a new law introduced maximum working hours for professional fishermen. The major fishing stations are often still allocated by drawing lots, a tradition dating back centuries. Fishing is a tough and often dangerous business. Fishermen go out at all hours, at the mercy of tide and weather. On shore there is always work to do on the nets or boat.
Types of fish
Mediterranean fish are classified as "white" or "blue". The latter are the oily fish, including mackerel, tuna, bonito, sardines and pilchards, while the white fish are meatier, and include grouper, bogue, dentex, john dory, hake and sea-bream. Although much emphasis has been placed in recent years on the health benefits of "blue" oily fish, the "white" fish which used to be scarcer in the Adriatic were the more prized, and are still more expensive to buy in markets or restaurants.
Buying fish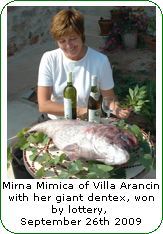 If you have rented an apartment in a Croatian seaside town, especially one with a barbecue, buying fish to cook for yourself is a treat. Usually you have to go to the fish market early, around 6 am. Even then during the summer months the best of the catch will probably have been snapped up by local hotels and restaurants, but there should be plenty of desirable fish left. Out of season, individual fishermen and larger fishing vessels may come in at odd times of the day, so you might find fresh fish on sale even in the evening.
Mostly fish are sold by the kilo, and all the vendors have their weighing scales. However an exceptionally large fish is usually sold by lottery, so the lucky winner may get a true and rare bargain. Mirna Mimica (pictured) of
Villa Arancin
in Vrbanj, Hvar, won a mammoth dentex, after buying a lottery ticket at the very last minute in the Stari Grad fish market in September 2009.
Preparation and cooking
If you're not sure how to clean and fillet the fish, ask the fisherman, vendor or a local who knows. They may well do it for you, and at the least will be glad to share their expertise and give advice on the best cooking methods, the best wood to use on the barbecue if you have a choice, also the right oil, fresh herbs and seasonings. Mirna's dentex was converted the same day into a rich traditional soup and succulent fillets.

Restaurants
In restaurants, the fresh fish is usually on display, or will be brought for you to see and choose from. If you simply order from the menu, ask if the fish is fresh or frozen, farmed or from the open sea, and in a reputable restaurant you will be told the truth. Freshly caught fish smells of the sea, has bright eyes, shiny skin, pinkness (not brown) under the gills, and firm flesh. Menu prices can be confusing. The same fish may appear twice, with different prices: this can mean that the cheaper version is cooked differently, or is frozen, possibly imported. For whole fish, the price is usually given per kilo, so it can seem frighteningly high. If you choose a fresh fish from a selection, ask how much it weighs in order to know the cost.
Shellfish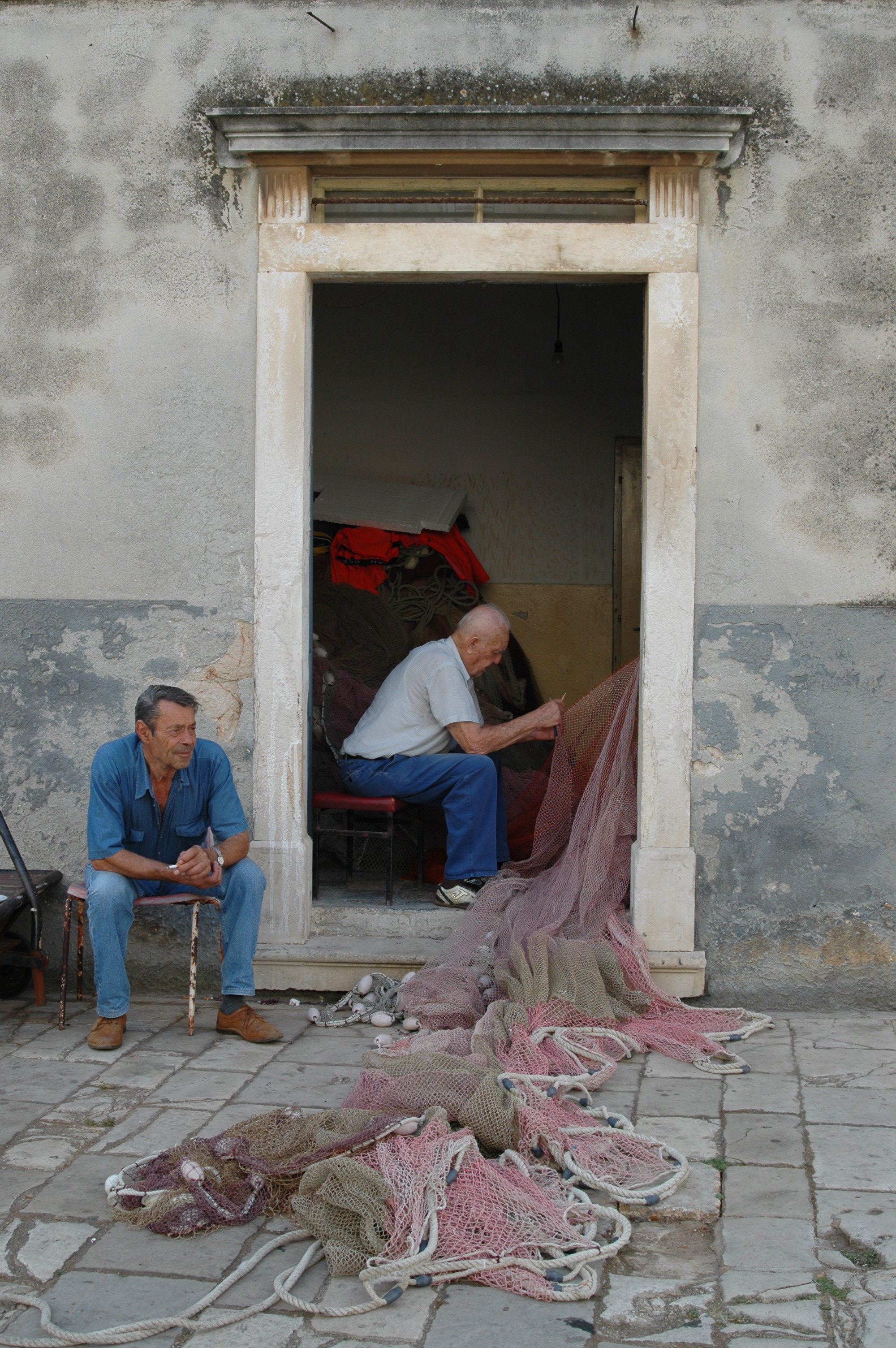 Many shellfish are still plentiful in the Adriatic, and may be cooked simply with garlic and herbs, to be eaten with bread, or mixed into seafood risotto or pasta. Razor shells, once abundant, are now rare in Croatian waters and therefore heavily protected. Some restaurants still offer them - at premium prices - either very discreetly to trusted clients, or openly, with the claim that they come from Bosnia where they are not protected. Be warned that if the inspectors turn up and your razor shells turn out to be illegal, your meal will hastily disappear and you will have to order and wait for an alternative, while the restaurateur has to find his or her way out of deep trouble!
GLOSSARY OF NAMES OF FISH AND SEAFOOD
This list is intended to help you identify fish or shellfish you may be offered in a restaurant or market. It's not exhaustive. The same fish can have very different names in different parts of Croatia. An excellent reference work in Croatian giving details of the fish of the region, their names in some 20 different languages, plus photographs of each fish is "Sva Riba Jadranskog Mora", by Neven Milišić, published by Marjan Tisak 2003, ISBN 978-953-214-406-2. A second part to this work was published in 2007, ISBN 978-953-214-408-6.

ANĆUGA = ANCHOVY (engraulis encrasicolus)
BARBUN = STRIPED, RED MULLET (mullus barbatus)
BLATAR = STRIPED, RED MULLET (mullus barbatus)
BODEĆ CRVENI = GROUPER (scorpaena scrofa)
BRADAVČICA = STRIPED, RED MULLET (mullus barbatus)
BRANCIN = SEA-BASS, SEA-PERCH (dicentrarchus labrax)
BRBAVICA = WARTY VENUS
BRGLJICA = ANCHOVY (engraulis encrasicolus)
BUKVA = BOGUE (boops boops)
BUTURAC = TURBOT, BRETT, FLOUNDER (platichthys flesus luscus)
CIGANIN = JOHN DORY (zeus faber)
CIP = STRIPED BREAM, MARMOR BRASSEN (lithognathus mormyrus)
CIPAL BALAVAC = THIN-LIPPED GREY MULLET (liza ramada)
CIPAL BATAŠ = GREY MULLET (mugil cephalus)
CIPAL ZLATAR = GOLDEN GREY MULLET (liza aurata)
CRLJENAK = GROUPER (scorpaena scrofa)
CRNOREP = SADDLED BREAM, BLACK-TAILED SEA-BREAM (oblada melanura)
ČEŠALJ = SADDLED BREAM, BLACK-TAILED SEA-BREAM (oblada melanura)
DAGNJA = MUSSEL
DORINKA = GROUPER (scorpaena scrofa)
FRATAR = TWO-BANDED BREAM (diplodus vulgaris)
GAVICA = SPRAT (sprattus sprattus sprattus)
GIRA = PICAREL
GIRA ATLANTSKA = CURLED PICAREL, ATLANTIC PICAREL (centracanthus cirrus)

GIRA OŠTRULJA = BLOTCHED PICAREL (spicara maena)
GLAV = BOGUE (boops boops)
GLAVOČ ZLATAC = GOLDEN GOBY (gobius auratus)
GLAVOČ BLATAR = BLACK GOBY (gobius niger)
GLAVOČ PLOČAR = GIANT GOBY (gobius cobitis)
GLIBAVAC = STRIPED, RED MULLET (mullus barbatus)
GLISTAVAC = CONGER EEL (conger conger)
GOF = AMBERJACK, YELLOWTAIL (seriola dumerili)
GRDOBINA MRKULJA = MONKFISH, ANGLERFISH, SEA DEVIL, ABBOTT (lophius piscatorius)
GRDOBINA ŽUTKA = FROGFISH, BLACK-BELLIED ANGLER (lophius budegassa)
GRUG = CONGER EEL (conger conger)

INĆUN = ANCHOVY (engraulis encrasicolus)
IGLUN = SWORDFISH (xiphias gladius)
IVERAK = FLOUNDER, FLUKE (platichthys flesus luscus)
IVERAK ZLATOPJEG = PLAICE (pleuronectes)

JAKOVSKA KAPICA = SCALLOP
JANDORGA = FLOUNDER,FLUKE (platichthys flesus luscus)
JESETRA JADRANSKA = ADRIATIC STURGEON (acipenser)

KAMENICA = OYSTER
KATARINČICA = SPRAT (sprattus sprattus sprattus)
KIRNJA = GROUPER
KIRNJA DUGULJA = STRIPED, GOLDEN GROUPER (epinephelus alexandrinus)
KIRNJA GLAVULJA = STONE BASS, WRECKFISH (polyprion americanus)
KIRNJA GOLEMA = DUSKY GROUPER, DUSKY PERCH (epinephelus guaza)
KIRNJA ZLATICA = GREY, WHITE GROUPER (epinephelus aeneus)
KIRNJA ZUBUŠA = DOGTOOTH GROUPER (epinephelus caninus)
KOMARCA = GILTHEAD SEA-BREAM (sparus aurata)
KOVAC = JOHN DORY (zeus faber)
KOZICE = PRAWNS (SHRIMPS)
KUĆICE = SHELLS
KUNJKA = NOAH'S ARK
KURCILJ = ANCHOVY (engraulis encrasicolus)

LAMPUGA = COMMON DOLPHINFISH (coryphaena hippurus)
LIGNJA = SQUID
LIST = COMMON (DOVER) SOLE (solea vulgaris)
LOKARDA = SPANISH MACKEREL (scomber japonicus)
LOKARDICA = ATLANTIC MACKEREL (scomber scombrus)
LUBIN = SEA-BASS, SEA-PERCH (dicentrarchus labrax)
LUC = BONITO, SKIPJACK TUNA (katsuwonus pelamis)
LUC = ATLANTIC LITTLE TUNA (euthynnus alletteratus)

MALE KAPICE = SCALLOPS (chlamys varia)
MINĆUN = ANCHOVY (engraulis encrasicolus)
MODRAK = BLOTCHED PICAREL (spicara maena)
MOL = HAKE (merluccius merluccius)
MORINA = GROUPER (scorpaena scrofa)
MORSKI PAS = SHARK
MORUNA = GREAT STURGEON, BELUGA (huso huso)
MURINA ŽUTOŠARKA = MORAY (EEL) (muraena helena)
MURINA CRNJKA = BROWN OR SPOTTED MORAY (gymnothorax unicolor)
MUŠULA = NOAH'S ARK

OBLIĆ = TURBOT, BRETT, FLOUNDER (platichthys flesus luscus)
OĆADA = SADDLED BREAM, BLACK-TAILED SEA-BREAM (oblada melanura)
ORADA = GILTHEAD SEA-BREAM (sparus aurata)
ORHAN = AMBERJACK (seriola dumerili)
OSLIĆ = HAKE (merluccius merluccius)
OVČICA = STRIPED BREAM, MARMOR BRASSEN (lithognathus mormyrus)

PAGAR = SEA-BREAM (pagrus pagrus)
PALAMIDA = PELAMID, BELTED BONITO (sarda sarda)
PAPALINA = SPRAT (sprattus sprattus sprattus)
PAS BUTOR = TOPE, SCHOOL SHARK (galeorhinus galeus)
PAS MODRULJ = BLUE SHARK (prionace glauca)
PAS TRUPAN ŠILJOKRILAC = SANDBAR SHARK (carcharhinus plumbeus)
PASTRUGA = STARRY STURGEON (acipenser stellatus)
PASTRVA MORSKA, P.JADRANKA = SEA TROUT (salmo trutta trutta)
PASTRVA DUZICASTA = RAINBOW TROUT ((salmo gairdneri)
PAŠARA = FLOUNDER, FLUKE (platichthys flesus luscus); PLAICE (pleuronectes)
PETROVO UHO = SEA EAR, ABALONE (haliotis tuberculata)
PISTAČ = SPRAT (sprattus sprattus sprattus)
PLAĆ = COMMON (DOVER) SOLE (solea vulgaris)
PLAT = TURBOT, BRETT, FLOUNDER (platichthys flesus luscus); PLAICE (pleuronectes)
PLOČA = FLOUNDER, FLUKE (platichthys flesus luscus); PLAICE (pleuronectes)
PRNJAVICA = WART VENUS
PRSTACI = RAZOR SHELLS

RAK = CRAB
RUMBAČ KVRGAŠ = TURBOT, BRETT, FLOUNDER (psetta maxima maxima)
RUMENKA = ABALONE, SEA SNAIL

SABLJAK, SABLJAN = SWORDFISH (xiphias gladius)
SALPA = GOLDLIN, BAMBOA FISH (sarpa salpa)
SARDELIN = SPRAT (sprattus sprattus sprattus)
SARDON = ANCHOVY (engraulis encrasicolus)
SARPELICA = SPRAT (sprattus sprattus sprattus)
SIPA = CUTTLEFISH
SKUŠA = ATLANTIC MACKEREL (scomber scombrus)
SRDELA = PILCHARD, SARDINE (sardina pilchardus)
SRDELA GOLEMA = GILT, ROUND SARDINE (sardinella aurita)
SRDJELICA = SPRAT (sprattus sprattus sprattus)
SVETI PETAR = = JOHN DORY (zeus faber)

ŠARAK = SPRAT (sprattus sprattus sprattus)
ŠANPJER = = JOHN DORY (zeus faber)
ŠKALJAŠ = CONGER EEL (conger conger)
ŠKAMPI = SHRIMPS (SCAMPI)
ŠKARAM = EUROPEAN BARRACUDA, SPET (sphyraena sphyraena)
ŠKARPINA = GROUPER (scorpaena scrofa)
ŠKOLJKA = SHELL; CLAM, MUSSEL
ŠNJUR GOLEMI = ATLANTIC JACK, BLUE JACK MACKEREL (trachurus picturatus)
ŠNJUR PUČINAR = MEDITERRANEAN HORSE MACKEREL (trachurus mediterraneus)
ŠNJUR ŠIROKI = HORSE MACKEREL, SCAD (trachurus trachurus)

TRAGALJ = BLOTCHED PICAREL (spicara maena)
TRILJA = MULLET
TRLJA BLATARICA = STRIPED, RED MULLET; GOAT FISH (mullus barbatus)
TRLJA KAMENJARKA = STRIPED, RED MULLET; SURMULLET (mullus surmuletus)
TRUP PRUGAVAC = BONITO, SKIPJACK TUNA (katsuwonus pelamis)
TUNJ = TUNA, ATLANTIC BLUEFIN TUNA (thunnus thynnus)

UGOR = CONGER EEL (conger conger)
UŠATA = SADDLED BREAM, BLACK-TAILED SEA-BREAM (oblada melanura)

ZUBATAC = DENTEX, DOG'S TEETH (dentex dentex)
ZUBATAC KRUNAŠ = PINK DENTEX, DOGSTEETH (dentex (cheimerius) gibbosus)