This is a welcome change from my life in West London, where the unrelenting urban buzz and aeroplane thunder throughout each day and much of the night made even beautiful havens such as Kew Gardens only relatively peaceful.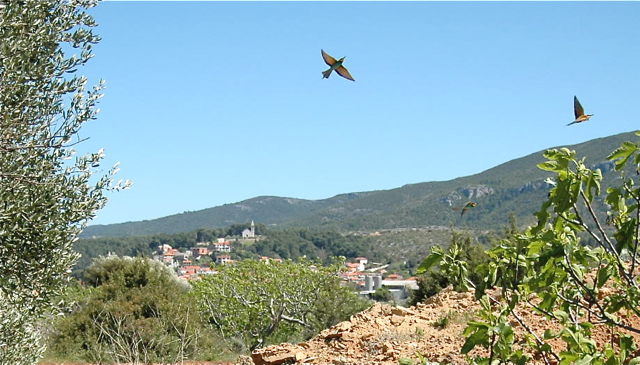 London parakeets, a treat
People sometimes ask me if I miss anything from England, and the ring-necked parakeets are always first to spring to my mind. I loved their beautiful colours, their community spirit, their distinctive engaging chattering calls, their disciplined patterns of movement, and their wisdom in keeping out of the way of potential predators, including humans. I greatly admired their ability to adapt to the English climate, something I totally failed to do. I was appalled to read of plans to cull them simply because their survival strategies have proved so successful and their numbers have grown. Monk parakeets have been subjected to very expensive extermination measures, which has provoked strong opposition through public petitions.
Hvar birds
We don't have ring-necked parakeets on Hvar, but there are a lot of other birds. Graham and Sue King have a home in Vrboska, and they have experienced the special privilege of having golden eagles circle overhead as they sat in their garden. They are keen birdwatchers, and Graham is an expert on trees, so his holidays on Hvar are often disrupted by someone asking for an opinion on whether a tree is dangerous or sick. I am extremely grateful to Graham and Sue for sharing their knowledge of birds with me, and teaching me to identify some types of birdsong.
Bird visitors
The summer bird visitors which herald the warm season tend to arrive in succession. I saw my first hoopoe of 2012 on 2nd April near Dubovica on the south side of the island, and not long afterwards the first house martins appeared in Pitve.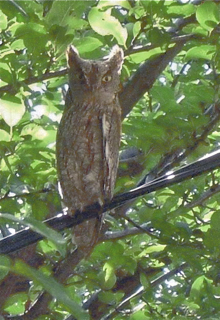 The little Scops owl (pictured left in Pitve, photo by Rod Coysh) announced its presence on 6th April. Most summer visitors to the island are familiar with the high even call it makes every three seconds through the night, and sometimes during the day as well. It is not shy, and by day may perch motionless in a tree within easy reach of humans, while at night it often sits calmly close by houses, waiting for the chance to pounce on its prey. The onset of autumn is marked by the sudden absence of its overnight beeping call, leaving the deeper discreet hoot of the eagle owl centre stage, echoing eerily in the unusual silence.

I heard my first cuckoo of the year on 24th April, closely followed by the arrival of the swallows in Pitve. On April 26th the bee-eaters burst on the scene with their shrill chirruping twittering buzz. The European bee-eater is exquisitely colourful, with bright yellow and orange flashes, and a bright blue-turquoise under-body, although this is not obvious when it is flying high and fast searching for insects on the wing. The bee-eater is a sociable bird: great flocks of them move around together. They nest in sandy banks, and apparently each pair is monogamous, with both parents caring for their young, although they may be helped by others from their flock.
On April 29th the golden oriole made its presence known with its melodic rising call at some distance. During the summer these wonderful bright yellow birds become omnipresent, although one has to be very patient to catch a glimpse of them.
Bee-eaters and parakeets
The bee-eaters' twittering is not as piercing as the high-pitched screech of the ring-necked parakeets, but their habits seem to have something in common. I spent close on forty years watching the parakeets from their first sporadic appearances in Chiswick House Grounds in West London. They ate berries and nuts, and kept high off the ground: once as I sat under Chiswick House's great oak tree I was showered with acorn husks as they merrily ate their fill way up in the distance above my head, squawking all the while. Later on, as their numbers and confidence grew, the parakeets would eat from bird feeders placed relatively high up on a building, if there was a tree nearby as a safe haven. At about 6 am every morning a great flock would fly past my house, heading east from their nesting grounds at Laleham to their daytime resorts in Chiswick House Grounds, Kew Gardens, Gunnersbury Park and elsewhere. The occasional pair would stop to feed from the nut-holder outside my bedroom window, one eating while the other hovered behind keeping watch. At around 7 pm the inbound fly-past from east to west would happen along exactly the same route, again with some pairs feeding on the way.
Watching those stunning birds with their bright green, turquoise and red colouring from close quarters was a special delight. I do not feed the birds on Hvar, as they have plenty of sustenance in the countryside and woodlands, and I have the opportunity to watch them in the wild. Sadly, as elsewhere, birds here face man-made perils alongside those thrown up by nature. They are exposed to the pesticides which many farmers spray on their fields with callous disregard several times a year. Ground feeders like robins are much less in evidence than they might be, no doubt because of this. There is also a long-standing tradition of trapping the migratory birds which fly over the island in the autumn.
Leave well alone?
The debate about whether to cull the ring-necked parakeets in south-east England seems to me misplaced. Now they have reached the stage where they come to ground readily in different situations, they will probably succumb to the health problems humans have created in the environment, and their numbers might stop increasing, or even fall. I am glad that until 2009 at least the Royal Society for the Protection of Birds (RSPB) had taken a neutral stance on the issue, pointing out that all wild birds and their nests and eggs are protected by law in the UK. There are certainly many more urgent environmental projects in need of time, energy and resources.
© Vivian Grisogono 2012. Updated 2014